Al Stickone is a black stickman with a light blue border, he was one of the main criminals facing RU, but he retired crime and became a hard working salesman, he has some references to Al Capone...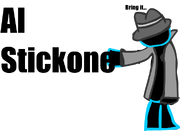 Abilities
Edit
Attacks/Upgrades
Edit
Standard Attack: Al punches an enemy (auto fighter)
Upgrade 1: killstreak918: Al gains +20% damage every time he is called.
Upgrade 2: Black Flag: He is now a standard fighter
Ultra attack: Mob Abomination: Al calls out his crew to attack all enemies!
RandomMinecraftDude444's Trivia
Edit
Ad blocker interference detected!
Wikia is a free-to-use site that makes money from advertising. We have a modified experience for viewers using ad blockers

Wikia is not accessible if you've made further modifications. Remove the custom ad blocker rule(s) and the page will load as expected.