The Elemental Fighters are a team of stick men with magic-like abilities.
The members are: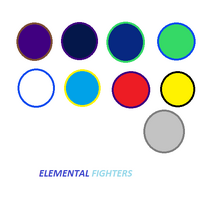 Note From Codyhero
Edit
IF YOU WOULD LIKE FOR ME TO ADD YOUR CHARACTER TO THE TEAM, JUST LEAVE A COMMENT, AND TELL ME WHAT CHARACTER YOU ARE GOING TO ADD(THE CHARACTER MUST HAVE A MAGIC-LIKE ABILITY TO JOIN). I WONT ANSWER BUT WILL SIMPLY CHECK YOUR CHARACTER, TO SEE IF HE/SHE HAS MAGIC ABILITIES, AND I WILL ADD IT.
Thank you.
P.S. If you're wondering why I cant answer, check out my profile, User:Codyhero.
Ad blocker interference detected!
Wikia is a free-to-use site that makes money from advertising. We have a modified experience for viewers using ad blockers

Wikia is not accessible if you've made further modifications. Remove the custom ad blocker rule(s) and the page will load as expected.