"Im just a hero that looking for fun"-SaitaStick
One Punch Stick(SaitaStick) is A powerful Stickman who easily defeats the monsters or other villains with a single punch
He is Based on New ANIME 2015 One Punch Man(Saitama).created by an author using the pseudonym ONE and the anime:
| | |
| --- | --- |
| Directed by | Shingo Natsume |
| Written by | Tomohiro Suzuki |
History: Edit
Saitastick born in Zick City.A city were the strong and though monster live here.Saita is only 22 years old unemployment man.
in his first gained job,he failed by the interview and go home with a sad face,when he is on the way home the monster name Stablante stops him and wanted to kill him,but Saita only watch and says that he to lazy to run from him,.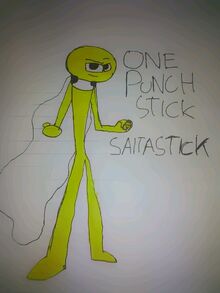 The monster spares him, explaining that it is hunting a boy with Green hair.Saita promptly encounters the child, who is revealed to have drawn nipples on Stablante with permanent marker while he was asleep. When Stablante finds them,Saita decides to protect the child, and kills the monster by Cracking his head with his Suitcase.
And that moment Saita then Practices Everyday to be a hero.
After three years Trained He realizes that he gained incridible power.However, due to his overwhelming strength, Saita has become bored with his powers and is constantly trying to find stronger opponents who can fight him.
History Source:
-One punch man EPS 1:
"The Strongest Man" "Saikyō no Otoko" (最強の男) 
-One Punch Man Wikipedia(with little Modification) 
Ad blocker interference detected!
Wikia is a free-to-use site that makes money from advertising. We have a modified experience for viewers using ad blockers

Wikia is not accessible if you've made further modifications. Remove the custom ad blocker rule(s) and the page will load as expected.