Phantom is a mysterious fighter that can seemingly predict the future and has knowledge of most fighters. He also acts as a harbinger to fighters, forewarning them about who they are up against before vanishing.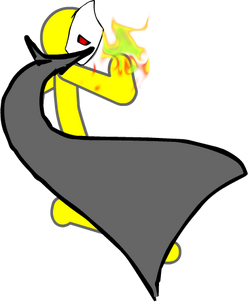 Appearance
Edit
Phantom has yellow skin and black outline. He also has a long, grey cape and half of a mask that covers the right side of his face. His eyes have different color, the right side being red that glows under the mask while the other is blue.
Abilities
Edit
TBA
Personality
Edit
TBA
Quotes for fighters
Edit
[more tba]
His eyes were supposed to be red but were change by red and blue.
His mask is based off the mask from The Phantom of the Opera.
TBA
Ad blocker interference detected!
Wikia is a free-to-use site that makes money from advertising. We have a modified experience for viewers using ad blockers

Wikia is not accessible if you've made further modifications. Remove the custom ad blocker rule(s) and the page will load as expected.