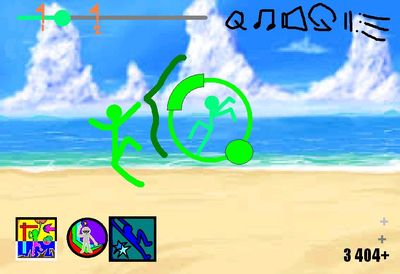 First off this is not actually a fan-made game, well it is but it is an imaginary fan-made game. I can't program a game yet.
Characters
Edit
Players:
There will be about maybe 15 characters:
Stacob -He spawns shapes that stuns enemies.
Domistick - He makes machines every 10 seconds that kills 1 melee every 7 seconds ( not rockets ).
Stathan -He hits Victor to altitude whenever he loses speed.
Stedwin - He can set on fire that damages on a period of time.
SticKid - He can do many things at once!
SticKing - He destroys the most concentrated area of limes.
--- not finished ---
( The story is related to the Slush invaders 3 timeline )
The story started at West AJ when 15 students enrolled there at the end of summer. They really dreamt of going to Slusher Wing , but they didn't passed the entrance exams. But they regret it a few months later, summer vacation. The Slusher Wing got invaded by the Blues and Limes. They immediately heard of the said incident. After they defeated Big Blue , the Limes again captured them in attempt to invade Slusher Wing. They then went to Slusher Wing to help them but the Slush Fighters X didn't accept their help, they said they got it covered then Stanthony called when they rejected them out of campus. When the Slush Fighters X went to help Stanthony, they saw Limes who were accomplices of Greg.The Limes were planting C-4's on the south wall of Slusher Wing. Victor, the vice-leader of the Limes, was ordered by Greg to blew the whole thing up. But Stacob and his group stopped them and Stathan accidentally kicked the bomb control and landed on an unknown location across town. Chasing them across town hoping to retrieve the lost control, they knocked out some of the Limes. But unknowingly, the Slush defenders didn't notice the bombs on the wall and some other group of guys are helping them.
--- not yet finished ---
-It not a real game and may never be.
-It supposed to be a fan-made slush defenders group.
-It originally had 100 characters.
-My 100 characters are in my sketchpad.
-My first character is Ben, an airbending stickman (inspired by avatar). But I will not put him in this wikia.
-My last character is Andrew, a stickman who has an awesome dragon.
   -He is suppossed to be the leader of Stick Fight.

   -I named him after Andrew , the leader of the Slush Defenders .

Ad blocker interference detected!
Wikia is a free-to-use site that makes money from advertising. We have a modified experience for viewers using ad blockers

Wikia is not accessible if you've made further modifications. Remove the custom ad blocker rule(s) and the page will load as expected.