Appearance
Edit
He is a white stickman with a black border that has black hair, he wears a white tuxedo with a red bow-tie and a pair of white shoes. He also wears a white tophat with a blue ribbon, a black monocle and a white cape. He is the fifth character to unlock at Stacob's assassins.
Disclaimer: He is not my design, I referenced him on Detective Conan, a japanese anime, totally awesome.
SticKid (or Stick Kepu, real name) is a japanese transferee from Japan. He is a big fan of Detective Conan, especially Kid, the master thief, so he studied everything about him, his weapons, tricks, and cape. But this didn't became a farce on his studies, infact by the time he makes Kid's glider, they're studying physics, and when he studied Kid's smoke bombs, they're studying chemistry. Stick Kepu became the valedictorian at his school so the principal decided to give him the most educational college of the world, none other than Slusher. But the enrollment slots were were gone, because StiKing came before him. That's Why SticKid and SticKing were enemies, and that's how they met each other. But Stiking was kicked-out of the school 3 days later, because of reckless behaviour, so then he tranferred to West AJ.
Abilities
Edit
-He can do many things a magician can. These are:
-He can fly. ( with wires )
-He can glide. ( with his glider )
-He can disappear. ( with smoke bombs )
-He can be very agile. ( but not super-speed )
-He can be very smart in points off danger. ( which he is always in trouble )
-He can shoot from very far distances. ( because of his monocle )
-He can mimic anyone and everyone. ( even girls! ) ____________________________________________
-He is a valedictorian.
-He speaks japanese and english.
-He knows all of the episodes on Detective Conan.
In Game:

-He firsts double-kicks Victor high into the air.
-Then he will stun 3 melee with his smoke bombs. (closest to Victor )
If Upgraded:

-After he stuns the melee, he will shoot five cards at non-stunned melee with his Card Gun, draining the enemies' life to heal other team mates. (closest to Victor )(Drainage is 25 % )

-After that he shoots 10 more cards at non-attacked melee. ( closest to Victor )( Damage is 25 % )

-Then his final combo will be shooting 15 more cards at non-affected melee, lowering their damage to 75%. ( if enemies on screen are 29-less, it will damage to first attacked melee )
Upgrades:
Card Tricks- read If Upgraded.
Hat Trick- augments <right> teammate by making thier attacks affect melee.
The Cape- ultra-attack; SticKid's cape will cover the screen for a second and disables all machinery until level completes.
-His favorite color is white.
-He hates SticKing.
-His favorite fruit is lychee :3.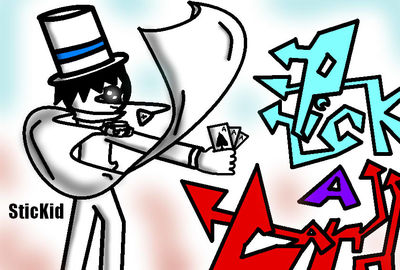 Ad blocker interference detected!
Wikia is a free-to-use site that makes money from advertising. We have a modified experience for viewers using ad blockers

Wikia is not accessible if you've made further modifications. Remove the custom ad blocker rule(s) and the page will load as expected.