Stick Cody is a like a model of me(Codyhero), who has a white body color and a blue outline and eyes.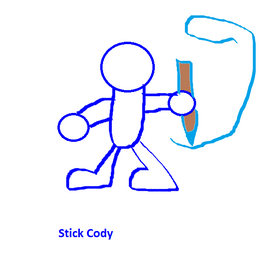 Appearance
Edit
Stick Cody has a similar ability to Stick Michael (I am not copying his ability, but in real life I draw A LOT), but Stick Cody can erase and create objects with his blue colored pencil, and make them come to reality (so basically, Cody's power is more powerful than Michael's).
Abilities
Edit
Draw: Cody draws any thing he can think of, and make them, well, come to reality. This attack does no damage unless Cody draws anything that can do damage.
Erase: The opposite of draw. Just like Mickey's paint brush from Epic Mickey/Epic Mickey 2, Cody can delete any objects he points to. When doing this, the color of his pencil turns white, like the color of air.
Hero Mode: This ability has its own webpage. Click this link to see the page-----> Stick Cody(Hero Mode)
Slash: Cody's basic attack. Does what Stick Michael does in Slush Tile Rush, drawing a line that does decent damage(unlike Micheal's little damage).
Ad blocker interference detected!
Wikia is a free-to-use site that makes money from advertising. We have a modified experience for viewers using ad blockers

Wikia is not accessible if you've made further modifications. Remove the custom ad blocker rule(s) and the page will load as expected.